COVID-19 CORONAVIRUS INFORMATION FOR CUSTOMERS - MOST DELIVERIES CONTINUE AS NORMAL: We are currently taking online orders as normal, as encouraged by the government. We can deliver a large selection of stock products with next day delivery. Our Show Centre and offices are temporarily closed. Some office staff are working at home where possible. With fewer staff our phone lines are open 7 days a week from 10am-3pm only. For more information
CLICK HERE
.
Not your postcode?
Setting the first half of your postcode shows you the full choice in your area.
Base dimensions
3.0m deep cabins (9'10")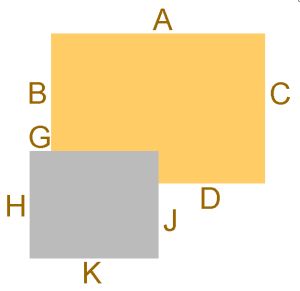 We recommend that your base should be no smaller than the floor size of the new log cabin and no more than a few inches larger.
Cabin size - 9'10" x 13'1" (3.0m x 4.0m)
Dimension A = 4000mm
Dimension B = 2000mm
Dimension C = 3000mm
Dimension D = 2000mm
Dimension G = 1000mm
Dimension H = 3000mm
Dimension J = 2000mm
Dimension K = 3000mm
Overall width from side to side (A) = 4000mm (excluding verandah)
Overall depth from front to back (C) = 3000mm (excluding verandah)
Cabin size - 9'10" x 14'9" (3.0m x 4.5m)
Dimension A = 4500mm
Dimension B = 2000mm
Dimension C = 3000mm
Dimension D = 2500mm
Dimension G = 1000mm
Dimension H = 3000mm
Dimension J = 2000mm
Dimension K = 3000mm
Overall width from side to side (A) = 4500mm (excluding verandah)
Overall depth from front to back (C) = 3000mm (excluding verandah)
Cabin size - 9'10" x 16'5" (3.0m x 5.0m)
Dimension A = 5000mm
Dimension B = 2000mm
Dimension C = 3000mm
Dimension D = 2500mm
Dimension G = 500mm
Dimension H = 3000mm
Dimension J = 2000mm
Dimension K = 3000mm
Overall width from side to side (A) = 5000mm (excluding verandah)
Overall depth from front to back (C) = 3000mm (excluding verandah)
Cabin size - 9'10" x 18'1" (3.0m x 5.5m)
Dimension A = 5500mm
Dimension B = 2000mm
Dimension C = 3000mm
Dimension D = 3000mm
Dimension G = 500mm
Dimension H = 3000mm
Dimension J = 2000mm
Dimension K = 3000mm
Overall width from side to side (A) = 5500mm (excluding verandah)
Overall depth from front to back (C) = 3000mm (excluding verandah)
Cabin size - 9'10" x 19'8" (3.0m x 6.0m)
Dimension A = 6000mm
Dimension B = 2000mm
Dimension C = 3000mm
Dimension D = 3500mm
Dimension G = 500mm
Dimension H = 3000mm
Dimension J = 2000mm
Dimension K = 3000mm
Overall width from side to side (A) = 6000mm (excluding verandah)
Overall depth from front to back (C) = 3000mm (excluding verandah)